2021 Postgraduate Research Community Online Conference
Reimagining Possibilities for Educational Research
Welcome to the 2021 Postgraduate Research Community Conference site!
This is a unique time in our history as we grapple with unprecedented challenges, including global crises in multiple domains that require solidarity in action.
We are mindful that, amidst this challenging landscape and context, education and educational research are critical as vehicles to challenge sometimes problematic norms. We are in the privileged position, as part of our work, to have an opportunity to think deeply and to reflect sensitively on unique and creative approaches for navigating, and possibly generating new resources to help address some of the fissures and fractures that have emerged within communities. There have been incredible shifts and new ways of engaging in research in recent times, and our goal for this conference is to provide a platform for creative, collaborative engagement within a space to build bridges to help reimagine educational settings and systems.
HDR participants are invited to reimagine possibilities and examine the potential of educational research to connect and reconnect communities, locally, regionally and globally.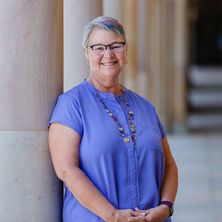 I am delighted to invite you to attend the 2021 Postgraduate Research Community Conference! "Reimagining Possibilities for Educational Research" is an appropriate theme, following on a year of the world reacting to the pandemic and greatly influencing education at all levels. As we continue to grapple with uncertainty, it is important to reflect, embrace change, and continue to move forward with optimism and creativity. I always enjoy the Postgrad Conference as it provides the opportunity to network with colleagues in various stages of their professional lives, share in the dissemination of new information being added to the knowledge base, engage in discussion about findings and new avenues of research exploration, and keep updated about what is happening in the field. This Conference provides the opportunity to strengthen our own understanding and imaginings about educational research.  Whether you plan to attend and/or present, this event can play an important role in the development of your own research and professional skills. Let us all join in reimagining the future!
Professor Patricia Morrell
Head of School
School of Education, The University of Queensland
---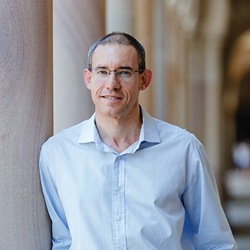 I am very pleased to endorse and support our HDR candidates in the annual Research and Postgraduate Conference, hosted by The University of Queensland's School of Education. This is an important and significant event in our calendar, and an opportunity for our HDRs to be able to present and showcase their work to colleagues and academic staff within and beyond the School.
The research they present is at the cutting edge of their respective knowledge domains and traditions, and is a vehicle to rethink and reconceptualise some of the most important work occurring in their respective fields. The research you will hear during the conference is rich, engaging and productive of the sorts of knowledges that can truly help to constitute a better world for all with whom they engage. Enjoy.
Associate Professor Ian Hardy 
Director of Research 
School of Education, The University of Queensland
All are welcome to attend our 2021 Postgraduate Research Community Conference and registrations are now open. 
Click here to view the conference program. 
Graduate School of Education, Kyoto University, Japan
School of Education, The University of Queensland
School of Education, The University of Queensland
Have your critiques gone far enough?: Reclaiming the Decolonial/Southern Theory project in/for international education and 'development'
Presented by Keita Takayama, Ph.D.
Researchers in international education and development have drawn upon the Decolonial/Southern Theory frameworks to critique how international organizations—including OECD, the World Bank, and UNESCO—and powerful bilateral donors have reinforced the global hierarchy of knowledges through their international development projects in the Global South. I am going to show how their critiques have not gone far enough. At the heart of the problem is the inability to recognize the global peripheries as epistemic others, where alternative theories of knowing and learning are generated and inform what goes on in schools. This problem is most clearly demonstrated in the ongoing, implicit characterization of formalism, as opposed to constructivism, as the remnant of colonial legacy. What remains under-explored here is the diverse onto-epistemic underpinnings of what is lumped together as formalism, reflecting the broader cultural and intellectual context of the Global South. 
Un-problematising research: reimagining education research through a strengths-based lens
Presented by Dr Marnee Shay
Research is an inherently problem based inquiry. The perplexing question of how we are to address complex issues in education if we don't interrogate the problems is one that requires considerable critique, particularly in settings involving minority groups. Strength-approaches is a practice framework that emerged from the social work discipline but that has much to offer in conceptualising and designing research. In this keynote I will share how strengths approaches have influenced and shaped my program of research and I will demonstrate how a strengths lens can re-shape transformative research to see old problems in new ways. 
Reimagining Early Career Researcher Pathways: (Un)puzzling problems as opportunities
Presented by Danielle H. Heinrichs
As we continue to navigate the on-going pandemic, Early Career Researchers (ECRs) are under increased pressure to reimagine their doctoral and post-doctoral pathways in a vastly changed academic context. Competing in the already highly-competitive environment of academia, many ECRs are left wondering how to best position themselves for the (in)mobile yet globally connected world of research in coming years. In this discussion, I focus on examples of my own attempts to diversify and (re)position myself as an ECR in the current context. I discuss a number of problems I have worked to (un)puzzle including rescoping my thesis, aligning future research with anticipated but as-yet-announced strategic priorities and tactical networking both in and beyond the education discipline. These include the introduction of social media and digital research options to a number of projects including my PhD. I also outline how I have made connections between my research area (language education) with the broader field of multilingualism with partners in NSW, Germany, USA, Singapore, Hong Kong and South Africa. I hope this provides inspiration for other ECRs in their on-going journeys in(to) the multiple opportunities in academia as well as other career pathways.
In this year's conference, there will be three options:
i) Individual paper presentations
15-minute presentation + 5-minute discussion
Live via Zoom in a parallel session with 2 other papers
Submit an abstract of 150-200 words
ii) Group paper presentations (3 presenters max)
15-minute presentation + 5-minute discussion
Live via Zoom in a parallel session with 2 other papers
Submit an abstract of 150-200 word
iii) Poster presentations
45-minute presentation and discussion
Live via own Zoom session and participants attend drop-in style during allocated time
Submit an abstract of 150-200 words
Submission guidelines
Please submit a single file in Word or PDF and include your name, email and title.
Individual paper presentation – Abstract (150-200 words)
Group paper presentation – Abstract (150-200 words)
Poster presentation - Abstract (150-200 words)
Timeline
Call for abstracts: 14 June 2021
Abstracts due: 7 August 2021
Notification of acceptance: 16 August 2021
Online registrations open: 16 August 2021
The Postgraduate Research Community Conference is an annual conference hosted by the School of Education at The University of Queensland. The conference aims to give students an opportunity to present their work-in-progress within a supportive community of peers and academics.
For previous conference information, please click here. 
Related Events
17 September, 5.45pm–8pm
Join us the day before our conference for the 2021 Carolyn D. Baker Annual Memorial Lecture titled 'The Digital Child', presented by Professor Susan Danby.