Primary teaching at UQ
As a primary school teacher, you will encourage children's curiosity and inspire their inquisitive minds.  Choose from either the Bachelor of Education (Primary) or the Master of Education (Primary), with both programs providing you with the high-level academic knowledge and professional skills necessary to foster children's learning and development from Prep (the first year of school) through to Year 6.
These programs draw on the latest educational research in combining university study with practical school-based learning, ensuring graduates are well-equipped to meet the challenges of a teaching career.
Blue Card required
To do any kind of work with children in Queensland you need a current Blue Card issued by the Queensland Government. To be allowed to go on prac (be placed in a school) therefore, you need a current card issued via or linked to the UQ School of Education. If you are not eligible for a Blue Card or are unwilling to submit to the vetting process you cannot complete the requirements of these programs. Find out more about Blue Cards here.
I DO NOT have a university degree and I would like to teach in primary schools.
Apply via QTAC or online for entry into the Bachelor of Education (Primary).
This is a four year undergraduate degree during which time you will complete 64 units. To develop wider expertise in a particular area/discipline you will select one minor, comprised of at least 3, but up to 4 courses in one subject area to form part of your primary specialisation (English and Literacy, Humanities and Social Sciences, Mathematics and Numeracy, or Science), and an additional one or two elective courses.  Throughout this program you will complete 14 weeks professional experience. 
Completion of the Bachelor of Education (Primary) will qualify you to teach in all areas of the primary curriculum, including:
Humanities and Social Sciences (History, Geography, Civics and Citizenship, Economics and Business)
English
Mathematics
Science
The Arts (Dance, Drama, Media Arts, Music, Visual Arts)
Health and Physical Education
Technology
Languages other than English
I DO have a university degree and I would like to teach in primary schools.
Check that you meet these prerequisites:
Hold a completed Bachelor degree from an approved institution in a field other than education with a minimum GPA (Grade Point Average) of 4.5
Have at least one year of full time equivalent study in the completed degree relevant to one or more study area/s in the primary school curriculum (see below list)
Applicants from a non-English speaking background are required to have completed an IELTS (International English Language Testing System) examination with an overall score of 7.5 with minimums of 8.0 in Speaking and Listening and 7.0 in Reading and Writing
If you meet these prerequisites apply via QTAC for entry into the Master of Teaching (Primary).
For further information on Entry Requirements please refer to the MTeach Minimum Entry Requirements guide.
This is an 18 month program completed over four semesters, including Summer Semester. This program draws on the latest educational research in combining University study with practical school-based learning, ensuring graduates are well equipped to meet the challenges of a teaching career. Completion of the Master of Teaching (Primary) will qualify you to teach in all areas of the primary curriculum, including:
Humanities and Social Sciences (History, Geography, Civics and Citizenship, Economics and Business)
English
Mathematics
Science
The Arts (Dance, Drama, Media Arts, Music, Visual Arts)
Health and Physical Education
Technology
Languages other than English
Tim Mullaly
Master of Teaching (Primary)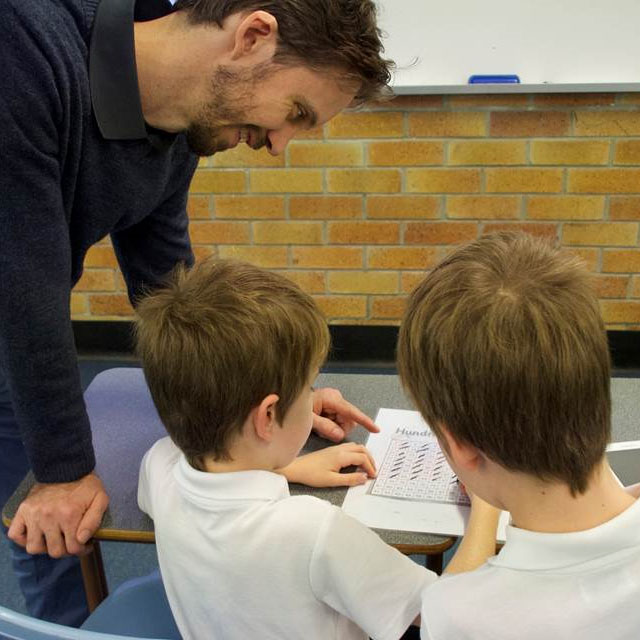 "As a new teacher I felt well prepared thanks to the excellent tutors and lecturers at UQ. The Master of Teaching program provided me with a comprehensive overview of the skill-set required by a primary school teacher. Whether I was teaching fractions or functional grammar or implementing a digital technologies program, I would find myself drawing on the experience and advice of my lecturers."