Carolyn D. Baker Memorial Lecture 2018
14 September 2018

6:00pm

–

8:00pm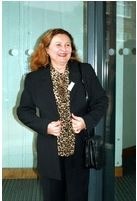 Carolyn Baker was an Associate Professor in the School of Education at The University of Queensland. Associate Professor Baker, who passed away in 2003, is best remembered for her research and her excellent postgraduate supervision and teaching.
This prestigious Annual Memorial Lecture commemorates the life and valuable contribution that our colleague, Carolyn, had generously shared with all of us during her time with the School of Education. The Carolyn D. Baker Memorial Lecture is the highlight of the annual research week that we celebrate at the School each September.  Join us as we remember our colleague and friend Carolyn Baker.
Internationally recognised researcher and Director of the Centre for Policy Futures at The University of Queensland, Professor Karen Hussey, will present What is Responsible Research and Innovation.
Date:       Friday 14 September 2018
Time:      6:00pm - 8:00pm
Venue:    Terrace Room,  Sir Llew Edwards Building (Bldg 14) St Lucia Campus
Canapés and drinks will be served.
To RSVP for this event please click here.
PDF invite link
For further information please contact - Maria Ejlertsen at m.ejlertsen@uq.edu.au or 07 336 54511.
Venue
Building 14, Sir Llew Edwards Building, St Lucia Campus
Room:
The Terrace Room, Level 6