Beyond TEMAG: The Initial Teacher Education Reform Agenda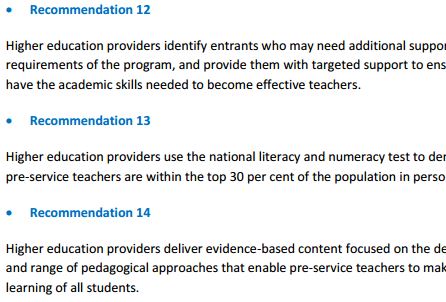 The Action Now: Classroom Ready Teachers report of the Teacher Education Ministerial Advisory Group (TEMAG) was released in February 2015. The Australian Institute for Teaching and School Leadership (AITSL) is responsible for implementing the reform agenda arising from the TEMAG report's recommendations. These reforms target almost every aspect of initial teacher education – including selection for entry into programs, the structure of professional experience, assessment of "classroom readiness", and the requirement for programs to demonstrate impact on graduate capability and impact of graduates on the students they teach. National implementation of a literacy and numeracy test as a mandatory condition of graduation is also associated with the ITE reform agenda.
This seminar will explore the complex and contested ITE reform landscape and the challenges it presents to Australian higher education providers. It will also invite discussion of the implications of these reforms for UQ's ITE programs, students, and staff.

Professor Merrilyn Goos
Professor Merrilyn Goos is Head of the School of Education at The University of Queensland. She is an internationally recognised mathematics educator whose research is well known for its strong focus on classroom practice. She has led projects that investigated students' mathematical thinking, the impact of digital technologies on mathematics learning and teaching, the professional learning of mathematics teachers, numeracy across the curriculum, and reform of initial teacher education. She is the recipient of a national award for excellence in university teaching for her work as a mathematics teacher educator. She is also the lead author of Teaching Secondary School Mathematics, an award winning teacher education reference book.
Join her to discuss these important issues facing our students and graduates.
Date Friday 29 April 2016
Time 10am to 12pm
Room Room 603
Location Social Science Building #24
St Lucia Campus